Specifications
1.Rechargeable led mini moving sign
2.Size:10X2inches
3.Rechargeable,Programmable
4.Scrolling & running & flash message display
5.Windows Compatible LED sign software on a CDROM
6.Internal Rechargeable Battery


2"x10" Rechargeable Programmable& Rechargeable Amber/Yellow Led mini Sign
Hold this pretty LED Mini Board in the airport or concert for displaying the name of person whom you see off. Also this can be used in the entertainment hall, sports stadium, to display the name of singer, actor or actress, sports star, etc whom you like. This product can be used very well for promotional event or electional campaign in the street. If taken our LED badge, the effect will be doubled. The product can be used repeatedly by rechargeable battery inside and easy to input your own designed text & image by USB from PC program. Also this product can be inter-connected to other electronic device by RS-232 or RS-485 protocol that we can provide.
Specifications & Features
Model Number: B1696AR

Pixel: 16 x 96

Frame Size: 258 x 55 x 15 mm (10mm bottom stand)

Color: White Single (Other available colors: Red, Yellow, Blue, Green)

Hand holder can be unfold to tripod for standing on the desk in normal time

Data Input Type: USB by PC program in CD

Data Input Limit:

English and other western 1 bytes letter => maximum 1,500 characters scroll in total (250 x 6 text rooms)

Simplified or Traditional Chinese/Japanese/Korean and other 2 bytes letter => maximum 750 characters scroll in total (125 x 6 text rooms)

Multiple image of bmp format of the pixel size above (2 image rooms)

Language Support: English, Chinese, Japanese, Korean, Spanish, Russian etc.

Display Effect: Scroll, Snow, Flash, Hold, Hold with circle

Display Message Selection: Either select to display any one single text message or eight text message/image in sequential order by clicking button on the backside

Speed Control for Display Effect: 5 level adjustment by clicking button on the backside

Brightness Control: 4 level

Battery Type: Poly-Lion Battery with 2,300mAh

Battery Charging Time: 2-3hours, AC110-220V

USB Adapter Enclosed

(100~220V AC Input, DC 5V / 1,000 mA Output )

Battery Lasting Time after Full Charge: 10~12 Hours in normal text

Switches: On/Off, Brightness, Message Selection

Windows Support: Window XP, Vista, Window 7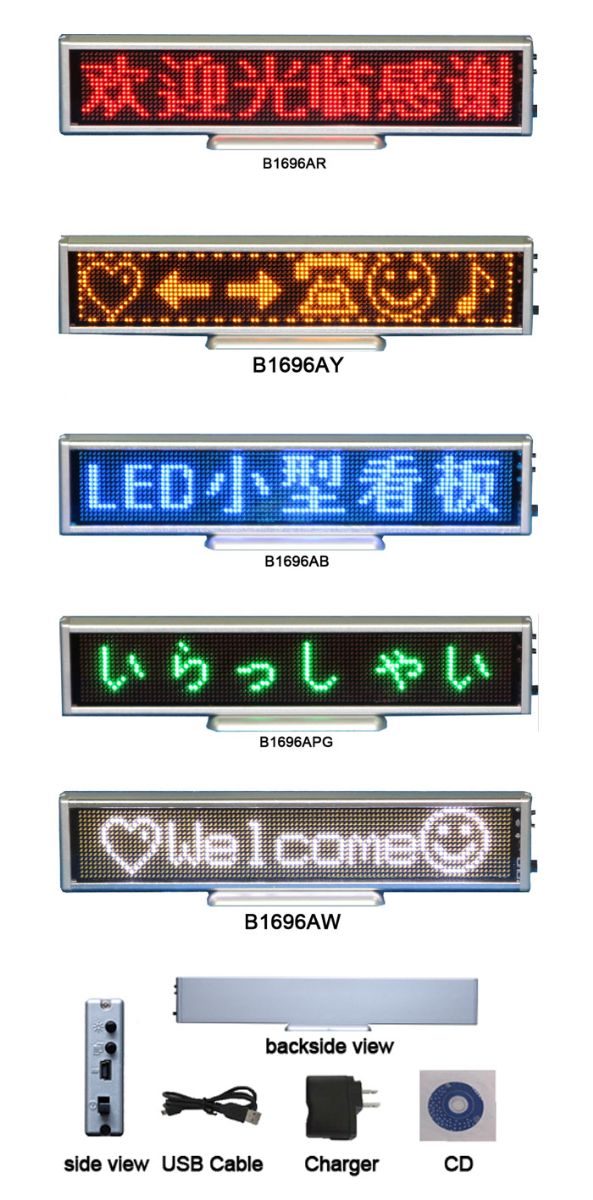 After-sale service:
1. Lifetime free maintenance and upgrade.
2. Complaint respond period not exceed 24 hours; maintenance guidance and problem solution supplied in 48 hours.
3. Customer satisfaction tracking report.
4. Free technician training.
5. Full set of documents free of charge, which including installation guidance, software operation manual, easy maintenance manual and control system software CD and so on.
6. Special service for big project, such as stadium, exhibitions, squares and so on.
More Details ,Please send the message to sales@panel-e.com or serenaled@panel-e.com
Thanks and best regards
Shenzhen Panels Elec. Co.,Ltd. Overseas Department.