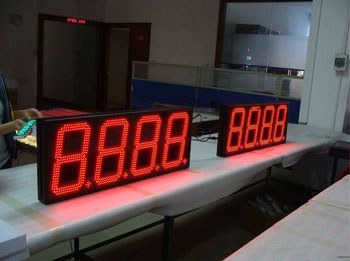 LED Digital Display :
1).7 segment display,Ultra bright,Oval shape of light
2).View angle>=140degree ,visiable area:200m
3).automatic light intensity and extended durability up to 100000 hours and free maintance
4).Weatherproof IP65 ,Aluminium or metal case Double or single side
5).Wireless LCD remote,control area:200m,BIG LCD screen
6).Remote control to upload digital diaplay different information or by wireless of RF model
Applications:
1) The digit height is 8" (Other digit height 8",9.5",10",12",14",16", 18",20",36",48",60",72" etc. are available.)
2) Digit Format: 8.889 (Other format 8.888, 888.8, 8.889/10, 8.8.8.8., 88.88, 88.888 etc. are available.)
3) Whole size: 1652mm L x 690mm H x 55mm D
4) Color: Green (Other colors red, yellow, blue, white are available).
5) Character display: "0 to 9, space, dot"
6) Control: by remote controller or by RS232 with computer. There is a powerful remote operation system in firmware